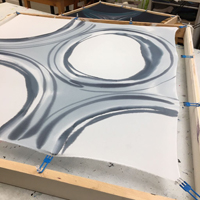 Donna hand paints white crepe de chine and chiffon silk yardage with Jacquard Silk dyes.  After steam setting, she cuts and sews the colorful silk into quilts, pouches and scarves. Scarf edges are serged.  Free-motion stitching adds more detail to quilts & pouches.
Donna's scarves and pouches are intended for everyday luxury.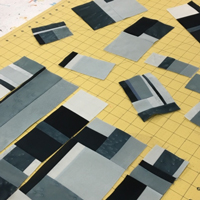 The art quilts are a slow and quiet process of dying, cutting, and piecing the silk fabric. She works in silence so that her mind will go to the moments of her life, to the people she loves, the things she did and what was said. Her quilts reflect those moments and conversations.